Classical Composers Timelines
These timelines show the lifetimes of 'classical' music composers who are moderately well-known, as defined loosely by whether I have heard of them. They are not intended to be exhaustive.
Below is a list of approximate periods in 'classical' music (from the rec.music.classical FAQ):
| | |
| --- | --- |
| Early | 1100-1300 |
| Medieval | 1300-1430 |
| Renaissance | 1430-1600 |
| Baroque | 1600-1750 |
| Classical | 1750-1827 (26th March) |
| Romantic | 1810-1900 |
| Modern | 1890- |
General Composers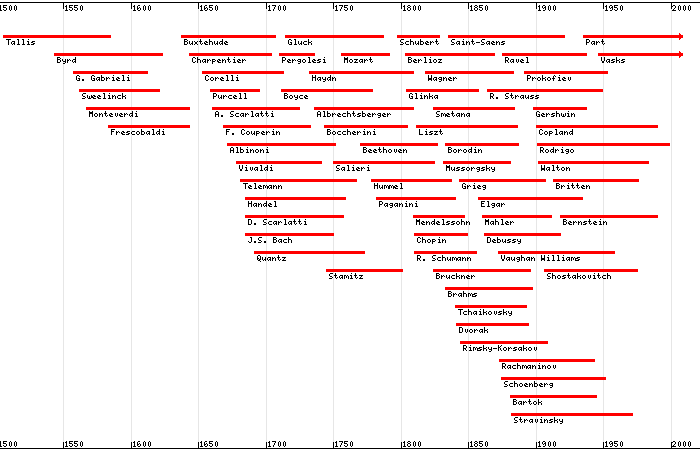 British Composers
The timeline below shows composers who have directly influenced music in Britain, either by being British citizens, by moving to Britain and spending appreciable fractions of their lives there, or by making musically significant visits. Those who are not British by birth but who spent an appreciable amount of time in Britain are shown as follows:

where the red section shows the time spent in Britain. Those composers who made musically significant visits to Britain but who did not live there permanently are shown (where the red marker indicates the date of visit):


Acknowledgements
The timelines were generated using the Image::Timeline Perl module written by Ken Williams, with minor modifications by me. Thanks also to Bob Bruner for interesting discussions on music and choice of composers.